17 NOV 11: Phillip Stearns' presentation and performance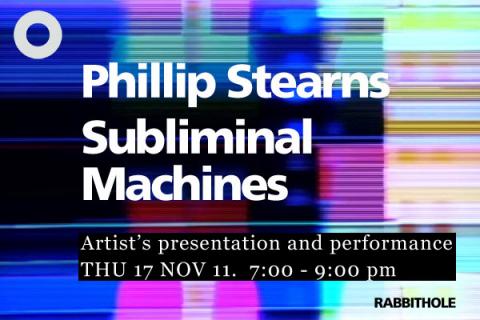 PHILLIP STEARNS "Subliminal Machines"  Artist presentation and performance
THU 17 NOV 11.  7:00 - 9:00 pm
Check out the unreal solo exhibition of Phillip Stearns' experimental and experiential electronics.   The artist will be performing with his hand-built, custom audio/video feedback synthesizer, as well as discussing the installation currently on view at Rabbithole.  If you're into new media, glitch, antiquated technology, and the collusion of art and science, don't miss this event.
This exhibition has been extended through FRI 02 DEC 11.
Video: PHILLIP STEARNS, Compression Study 01 (2011)
c
Lament IV - Waves (10min excerpt) from Phillip Stearns on Vimeo.
"Lament IV - Waves" is a video graphics work generated using only simple sine tones as both source and control signals. The wave form signifies a pure cyclical process, one that is intimately linked to the revolution of planets, their orbit about the sun, the changing of tides, and the topology of water in motion. The Lament series stems from a meditation on the eco-destructive powers of mature global capitalism, and a loss of innocence symbolized by the polluting of our aquatic ecosystems.
This work was produced at the Experimental Television Center in Owego, NY in 2009 as part of the summer artist in residence program. The video signal is completely synthesized from sine tones and colorized using a Sandin image processor.
Neon Test - Light Art in the Making from Phillip Stearns on Vimeo.
Shift-registers and logic gates + solid state relays = mega light rad light control.