Thu Jan 17th: Sugar Life (live) + "Female Trouble" by John Waters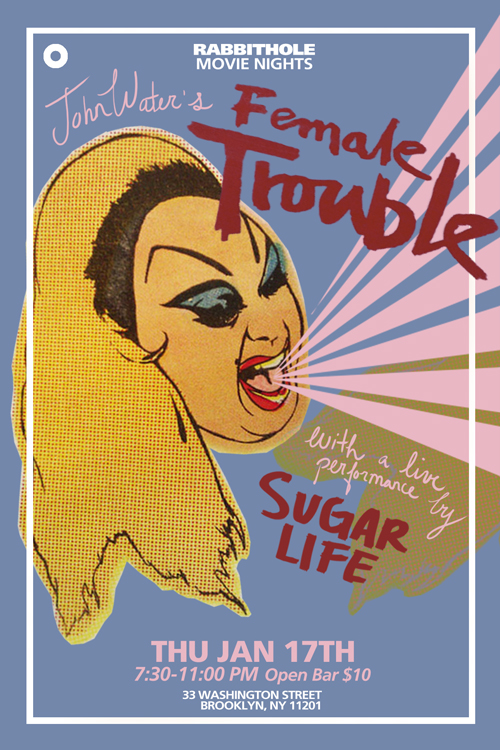 For a wonderful start into the new year of 2013, Rabbithole is pleased to present it's first movie night of the year with a very special performance by SUGAR LIFE, followed by a screening of FEMALE TROUBLE by John Waters. That means double trouble!
8pm: SUGAR LIFE 
Born in France, Sugarlife (Christian Dautresme) is a performance/music artist living in New York City. "It's like watching a cheap live daytime soap in which the main female character unravels onstage. There is usually some sort of molting which follows…" says Sugarlife. "Imagine if the United States became a third world country and people had to resort to living room theatre or decrepit mall theater for entertainment. I'm trying to… manifest the subconscious imagery that inhabits the world of dreams and the world of films by the likes of David Lynch, John Waters, Bunuel, Almodovar and others.
"If looking at my work in the context of Guy Debord's society of the spectacle, the essential character of the spectacle is said to be a 'negation of life which has invented a visual form for itself', While trying to go against the grandiose spectacle created by society, I aim to eventually be assimilated by it and to bend the light that illuminates it. 
"Sugarlife explores and desecrates the time-based and spatial notions ofperformance art, identity, and sexuality with an entertaining and often absurd interactive, live performance. It tends to be hilarious as well as very scary. Whether charging the air with electronic blips, conjuring up a damaged visitor from the realms of the immortal spirits such as Kazuo Ono and Tatsumi Hijikata, or singing in a celestial soprano, Sugarlife becomes a sonic shaman whose transcendence is the only constant.  Neo-Fluxus freak out? Absurdist action art? The ghost of G.G. Allin as a drag queen from a distant planet? Sugarlife transcends any classification."
8:30pm: FEMALE TROUBLE
The king of bad taste at his best. This classic John Waters tells the depraved life story of obese criminal Dawn Davenport (Divine), from her bad-girl youth as a go-go dancer on Baltimore's infamous Block to her death in the electric chair. Populated with Waters' typical appallingly hilarious cast of screwed-up social misfits and dysfunctional lunatics, this is a wonderful thoroughly deranged comedy. An outrageous delight which has formed the raw back bone of today's cultural subconscious. 
Thursday January 17th, 2013
Door is $10 with Open Bar!
Opens at 7:30 pm.
Hope you'll come and enjoy the show, as much as we will!
Happy New Years!